Not all Macs are created equal! Not every Mac comes with the RAM required to open and run a dozen memory-hungry Mac apps. Not everyone can afford the latest and greatest Mac that's loaded with lots of RAM.
If your Mac is older, or short on RAM, SixtyFour can help you reduce memory usage. That means you can keep your Mac running longer, but running better.
If you intend to run more apps at the same time, and, at the same time, maintain system performance, but can't upgrade to the newer, faster Macs with more RAM, this is the app for you!
32-bit VS 64-bit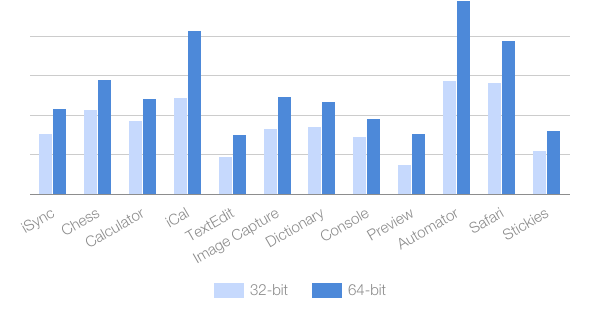 Apps running in 32-bit mode on your Mac take up far less memory
An app usually contains several versions of the code: a version intended to run on 32-bit processors and another one meant for the more recent 64-bit processors. This is necessary to ensure that the app will run on all Macs that support Mac OS X. Forcing a 64-bit app to open in 32-bit mode reduces its memory usage significantly. Opening a 64-bit app in 32-bit mode, reduces its memory usage by at least 10% and commonly as much as 50%.
SixtyFour's core purpose is to improve performance of older Macs
SixtyFour presents a list of 64-bit apps that can open in 32-bit mode. A selected check box indicates that the app will open in 32-bit mode and a non-selected check box indicates that the app will open in 64-bit mode. Check those 64-bit apps you want to run in 32-bit mode, and you're good to go. Changes made in SixtyFour will be kept across reboots. It is not required to keep SixtyFour running. That's it!
New Feature Highlights
Quick Look plug-in

SixtyFour includes a Quick Look plug-in which extends Quick Look's standard functionality to display extra info: app architectures, app platform info and bundle version.

SixtyFour Agent

SixtyFour Agent is an app contained within SixtyFour, which takes over the functionality that was previously available in SixtyFour, displaying the bit mode of an app when launched.

Performance Tools

ProcessTimer can be launched from the application menu, performance tools. It can help you determine whether or not to run an app in 32-bit mode.
What Our Users Said
"On Intel-based Macs the reduced startup time and lower RAM requirements are notable." – Will Gomez
"Memory is king. By forcing some apps into 32-bit mode does save me more RAM for running memory-hungry applications." – Tom Tsui
"It's a very good little application, quite helpful to run those everyday applications in 32-bit mode in Lion, i.e., Safari, Mail, WebProcess, etc., to reduce memory usage. For more demanding applications, 64-bit is good." – Edgar Cabrera


System Requirements:
Intel, 64-bit processor, OS X 10.6 or later