Here's A 100% Proven Way To Quickly And Easily Outrank ANY Site, For ANY Keyword, And Get A Top Google Ranking (See Full Proof Below.)
How about getting your website
to the #1 place
in search engines, rocket-fast? With a tool as powerful as SEO SpyGlass, it's easy as winking!
You'll instantly figure out how your competition got their #1 place, then improve on their winning tactics, and gain their fat place for your own site.
You just fire up the tool, and your competitor's linking strategy is right in front of you, on a silver platter. All you have to do is grab the numerous ranking factors SEO SpyGlass shows, explore the best opportunities, and watch your site's sales go up, together with your rankings.
Yet another thing to discuss: how does SEO SpyGlass deal with this great challenge to stay on top each day? Easy as pie: a team of developers watch search engines non-stop and specially tune up your software. So whenever a change happens in search engine's algos, with SEO SpyGlass you'll still know every move of your competition and stay cool and on the top.
You've got a freshly renewed SEO SpyGlass today
SEO SpyGlass starts the new generation of SEO tools that will go way beyond search engines' limits when it's looking up SEO data.
Right now SEO SpyGlass finds up to 50,000 backlinks while other SEO software gets stuck at only 1,000. Can you imagine that?
SEO SpyGlass helps us get mass of precious information, like:

where your competitors are buying their best links from
what directories send them winning floats of visitors
which blogs and forums generate hoards of targeted traffic
what Page Rank values will make your links pattern look natural
what are the best working anchor texts
where your competition gets site-wide and homepage links, and even how much they cost
Anyway, what you just learnt is a mere part of what SEO SpyGlass really does. We'd have to make a video as long as life, to show you how much good this cutting-edge tool does for you, each day.
Just think of it: at completely no risk, today, tomorrow and any day after, you know everything your competition wouldn't want you to know, watch closely their every step, and have all you need to keep your site right on the search engines' top point.
It's high time for you to get your site noticed! Go ahead, use the chance to get SEO SpyGlass right now, and see your site land on the #1 place.
Today you can easily get SEO SpyGlass Professional for as little as $49.95! And you're absolutely safe when you buy this SEO software, as you've got a 30-day money-back guarantee.
Order SEO SpyGlass now, and you will also get:
6 months of free Live! Plan updates. (The Live! Plan currently includes algorithm updates for proper interaction with search engines.)*
Professional support from our Customer Service. We're always there to answer any SEO-related question you might have — within 24 hours max.
Free functionality updates for life. (That's right, all the bug fixes and feature improvements are yours free of charge for life.)

And that's still not it — SEO Spyglass will also include your personal SEO Success Blueprint Report. This report alone will give you the knowledge and power to catapult your site ahead of the competition. Because SEO Success Blueprint is tailored for a specific site, it works, and works 100%.
SEO Success Blueprint is a custom report specially designed for you to outrank a specific competitor. It's like having a personal consultation with an SEO pro, who tells you in detail how to get a #1 placement and one-up the competition.
The report is easy-to-understand. It's written in plain English, for absolute beginners, yet reveals things professional search engine optimizers make their living off! It includes 7 simple steps you must follow if you're serious about dramatically improving your site's visibility in the search engines… and driving FREE organic traffic to it.
Here's our guarantee: If you actually follow these simple instructions exactly, you'll be able to outrank your niche competitors, and rank #1 in Google or Yahoo! for the keyword you target.
Now stop wasting your time trying to figure out how to get on top of Google all by yourself…
Use the smart way
to find out the linking strategy that works — as a shortcut to outrank your competition!
If you are any serious about getting your site to the top in search engines and driving hoards of traffic to your web pages,
You Owe It To Yourself To Get SEO SpyGlass Immediately —
And With this MacZOT Special Price You Can't Go Wrong!
Order the complete toolkit now and save $250!
SEO SpyGlass Professional is part of SEO PowerSuite toolkit that includes all website promotion tools:
Rank Tracker, WebSite Auditor, SEO SpyGlass and LinkAssistant. Altogether they cost $399. On the developer's website you can get a discount and buy it for $249 — and only at MacZOT you can order the complete pack for only $149 and save $250!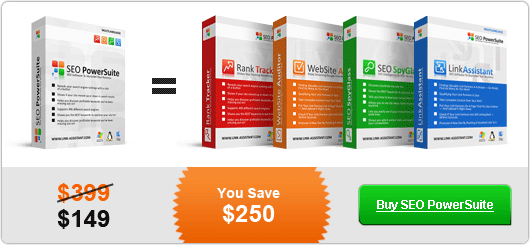 What real users say about SEO SpyGlass:
Take a test drive right now (100% free download), or buy SEO SpyGlass securely online for only $49.95.