Espionage
Secure protection for individual folders.
Holiday ZOT Preview Below…

Normally: $34.95

ZOT Price: $17.48

Click to MacZOT
Our computers store a lot of private information about us, and others. For example, when someone sends us an email they expect that email to reach us only, and rarely consider that in doing so that email could very easily fall into the wrong hands. We could lose our computer on a trip or in a burglary, or hand it to a someone to use for a few minutes. That's all it would take for information we once thought was private to become public. Your user account password offers zero protection to someone with even rudamentary computer knowledge.
There hasn't been a way to protect application data like email and chat histories without encrypting all of the data on your computer, and this can severly impact the performance of your Mac. Until now, that is.
Now, Espionage is here to solve that problem for good.
Powerful and Intuitive
Espionage is much more than just a glorified interface to encrypted disk images. It leverages a powerful event system called iSpy that enables it to integrate seamlessly with the system, and gives it the power to encrypt application data.
Using Espionage, you simply encrypt individual folders. Once a folder is under Espionage's protection, double-clicking on it will bring up a password prompt: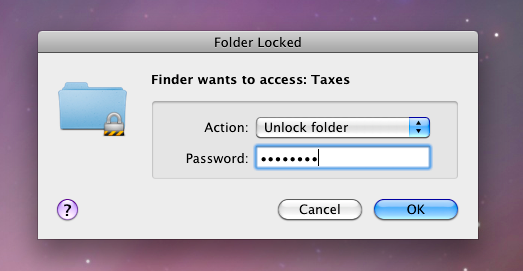 Enter the correct password and your files appear. Right-click on the encrypted folder to re-lock. It's that simple, the way it should have been in the first place.
Fast and Simple Folder Access—Anywhere
All of your protected folders are quickly accessible from the menubar: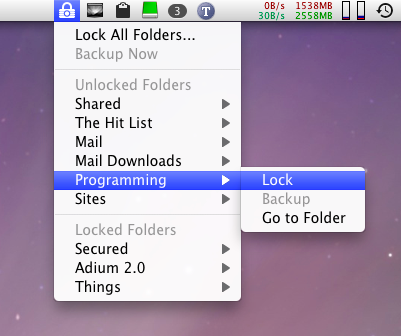 Protect Application Data
With Espionage, you can encrypt your email, your chat histories for your favorite instant messaging client, your web browsing history and cookies, and more. You get to choose what needs encryption and what doesn't.
Now over 20 application templates make it super-simple to secure application data: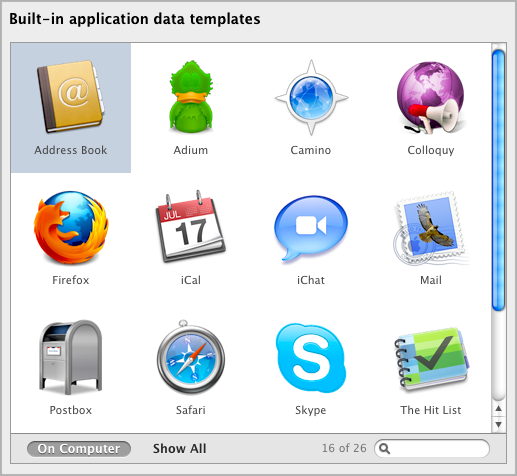 Espionage will encrypt all of the important data for the application and prevent it from running without your password, and it will automatically lock the application's data when you quit it (or not, it's your choice).
To see this in action, check out the screencast on Espionage's homepage.
Peace of Mind With Built-in Backups
With Espionage, you no longer have to worry about what happens if your computer is stolen, or about your friend reading your email while they borrow your computer. Nor do you have to worry about backing up your encrypted data. Espionage has you covered with its built-in backups: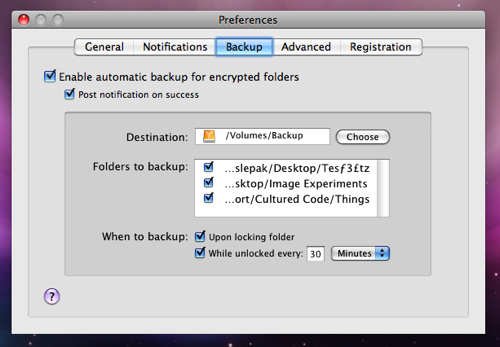 Wicked Performance
Encrypting and encrypting data is a taxing operation, and therefore encrypting your entire home folder (for example, using FileVault) can really bring down the performance of the system, and for laptops is a drain on the battery life.
Espionage saves you this performance penalty by letting you choose what gets encrypted, and usually this is a small fraction of the data on your drive. How much performance does it save you? We performed some benchmarks on filesystems with and without encryption to find out, and the results are staggering: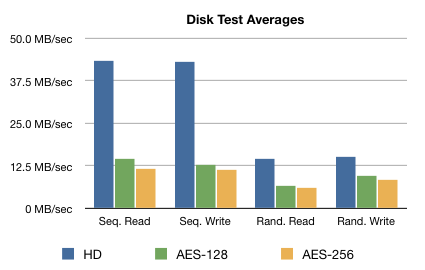 Espionage can save you well over three times the performance for file access. This speeds up application launch times, and all disk-intensive operations. The result is a much more responsive system, and most of the time there's zero performance hit.
Laptop users can rejoice too, because now you can encrypt your files without having to worry about killing your battery life. During the benchmarks we sampled how idle the CPU was, and here are the results: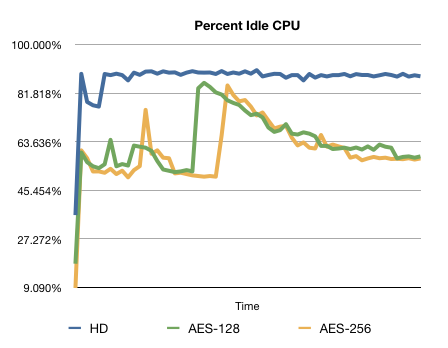 Reviews and User Comments
"

This app allows me to do something I could never figure out before – password protect my email in Mail App. I definitely recommend this app for the paranoid among you or those who are interested in securing their important files. The tag says that this app replaces FileVault but I disagree. This blows FileVault away!

– BRUSKI2007 on MacUpdate
"

This is head and shoulders above other security apps out there. The kind of app it makes you glad you've got a Mac. I had a couple of issues, dropped the guys an email and they got straight back to be and resolved them. For such a new app, this really shows big promise, and a bargain too.

– SIDE LANE on MacUpdate
"

Thanks for this great software. I just bought it and will recommend it to my friends. Your program addresses a big privacy hole in email that has existed at least since I started using Eudora in the early 90s. It never made sense that they required a password to send mail but not to view your inbox. Apple Mail continues this weakness but Espionage has provided an elegant work-around. Same problem for iPhoto. Espionage really has tons of potential.

– Tim via email
"

Congratulations on crafting what looks like the best encryption app on the Mac

– Miles via email
"

"5/5″ – This app is simple and easy. Takes virtually no effort to set it up and use it. I love it and think its a must have if your a mac user and need some extra app security.

Fuel Your Apps Review (v2.0.8)
"

Espionage does exactly what it claims to, and makes managing secure data remarkably easy.

AppStorm Review (v2.0.2)
"

The software is extremely easy to use and very effective – I would recommend it to all, novices and advanced users alike.

Help Net Security Review (v2.5.4)
"
As it goes with all Mac related searches, there is always a terrific application for each purpose. This time it's Espionage by The Tao Effect.
Smoking Apples Review (v2.0 beta)
More Information + Video
More information, plus a video demonstrating how to use Espionage to encrypt application data can be found at its website:
System Requirements
Mac OS X 10.5 Leopard.
---
This weekend's Holiday ZOT?
Dec 24/25/26

1Password and Knox at 40% OFF!
Know someone new to Mac? Need a gift for someone who "has everything"?
Give them the gift of Security and Productivity this year! 1Password can create strong, unique passwords for you, remember them, and restore them, all directly in your web browser.
5 Responses to "Espionage"