Onde Screen Capture and Onde Screen Rulers for Mac

"The Screamin' Screen Twofer!"

Get BOTH of these richly featured apps for WAY less than the normal price of either ONE! (Download links and Apps Available Separately below…)

Normally: $49.95

ZOT Price: $14.99

Click to MacZOT
Buy BOTH Apps Together from this page.
Get Trial Downloads, details on the apps, and/or BUY either App for $9.99 by following the links below…
---
Onde Screen Rulers for Mac
Conveniently Measure the Dimensions of Any Object on Your Mac
Trial Download
Buy separately or get more info…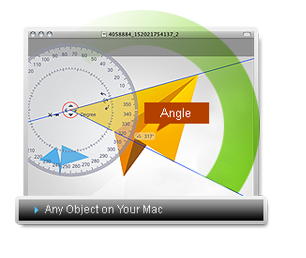 Online measuring tool to measure the dimensions of any objects on Mac.
Easy protractor enables you to measure angles in radians or degrees.
Detail Window provides you a magnifier and pixel value for accurate measurements.
Logger Window serving as your personal notebook can remember all the detailed measurements data history.
Customize keyboard shortcuts, ruler colors and transparency settings according to your preference.


"As a web designer, I can say that Onde screen rulers is by far the best measuring program I have ever found to measure objects or angles accurately and conveniently."
– From Turkey Erick



---
Onde Screen Capture for Mac
A Powerful Screen Capture Tool With Endless Possibilities
Trial Download
Buy separately or get more info…
A variety of capture options allow you to grab a snapshot of exactly what you need. Use the all-in-one editing tools to highlight specific portions of your image, or to personalize your picture for friends and family. Save your screenshot instantly to the desktop or to the mac clipboard in a variety of image file formats. The easy to use interface and variety of customizable options makes Onde Screen Capture for Mac a must have application for graphic designers, bloggers, photographers and more…
System Requirements: Mac OSX 10.6 or later. Intel Mac.
Click to Developer's Site for more info about both applications.
One Response to "Onde Screen Capture and Onde Screen Rulers for Mac"
Frank2 Says:
June 7th, 2012 at 10:52 pm

The Regcode does not work for me.