Powerful PDF Tool – A-PDF Merger for Mac

A user-friendly PDF tool to merge multiple PDF and images into one large PDF file in minutes.

In the ZotShop, 200 Photoshop Actions for Beautiful Photo Effects!





Normally: $35.00

ZOT Price: $21.00

Click to macZOT!
Download Trial





A-PDF Merger for Mac
is an easy-to-use PDF merging tool for Mac OS. This affordable
program provides an easy and fast solution for file archiving. With this utility, you can merge
multiple images or Acrobat PDF documents into a compact PDF file. The optional file import
methods and flexible merge methods of this software will save you trouble and improve your
work efficiency.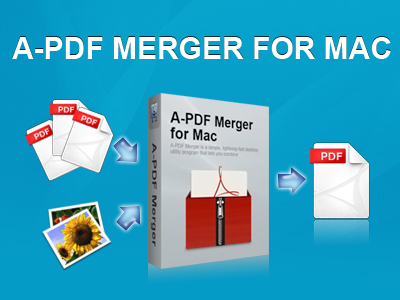 Multiple-to-One for Archiving & email
A-PDF Merger for Mac
is a great helper for document archiving. By combining multiple
PDF files into a single one, you will have fewer files to store, which will reduce the possibility
of files missing. Besides, this file merging tool will allow you to send fewer email attachments
because the merged PDF already contains all the information.
Images to PDF File
In addition to allowing you to merge PDF files to one succinct PDF, A-PDF Merger for Mac
also enables you to convert images of different formats into a single PDF document. The
supported image formats include: TIFF (.tif), Multi-page TIFF, Windows bitmap (.bmp), GIF
(.gif), JPEG (.jpg), Portable Network Graphics(.png), JPEG2000(.JP2, .J2K), Photo Shop
Document(.psd), PCX, DCX, DIB, RLE, TGA, PBM, PGM, PPM, ICO, PCD, WMF, EMF, CUR.
Easy Merging in 3 Steps
Once you launch this PDF merger on your Mac computer, you can complete the merger in
3 steps:
Click the "Add" button to import PDF files or images;
Organize file order and select merge method;
Click the "Merge" button to start the merger.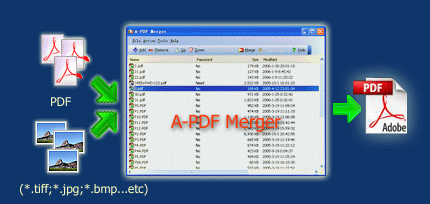 Flexible Merge Methods
For different uses or purposes, A-PDF Merger for Mac provides you with 5 merge methods
including: Whole, Part, Mix alternate pages, Mix alternate pages, Reversed and Repeat.
Multi-Language Support
A-PDF Merger for Mac supports multiple languages. You can choose and customize the
interface language of this program so you can proceed the merging with native or familiar
language. You can download the language files here and follow the tips to apply or
customize the UI language.


System Requirements:
Mac OS
2 Responses to "Powerful PDF Tool – A-PDF Merger for Mac"
rockroll Says:
July 16th, 2014 at 7:33 am

Looks like a PC application. Ugly, IMHO.

JupmBgn Says:
July 16th, 2014 at 10:42 am

Click on "Help" in the application. The drop down menu states there is none available. So, how do you use it?

Then you look at the information about the application and get:

"Engineering:
Some people

Human Interface Design:
Some other people

Testing:
Hopefully not nobody

Documentation:
Whoever

With special thanks to:
Mom"

Umm … How did this get onto MacZot?